Happenstance 2012
Sat. 17 Nov, 2012 at 7:00pm AEDT
Get Tickets
Details
Comments
Event Description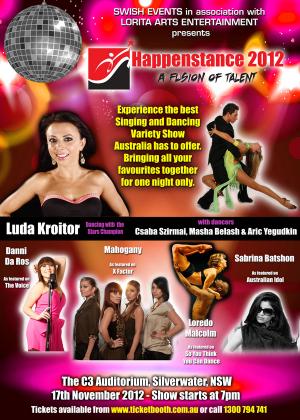 Lorita Arts Entertainment is proud to present Happenstance 2012, a fusion of talent. You will experience the best Singing and Dancing Variety Show Australia has to offer, bringing all your favourites together for one night only. For people that enjoy live music and a variety of dance styles we can promise you all of this and much more, delivered by names you will know:
1. Luda Kroitor (Dancing with the Stars), Csaba Szirmai, Masha Belash & Aric Yegudkin
2. Danni Da Ros – The Voice
3. Mahogany – X Factor
4. Loredo Malcolm – So You Think You Can Dance
5. Sabrina Batshon – Australian Idol
6. Ricardo Rosa – Australian World Musician
So do not miss this extravaganza of Australian talent brought to you in an intimate venue for one very special evening. And why not treat yourself to a premium seat to get the very best seat in the house!
And after the show, do you need to rush off? Why not make a night of it and meet some of the stars of the event.
Purchase After Party Tickets Here