Australian National Show and Shine Euroa
Sun. 1 Oct, 2023 8:30am - 3:30pm AEDT
AUD $5.00 - AUD $10.00
All Ages
Event Stats
AUD $5.00 - AUD $10.00
All Ages
Event Description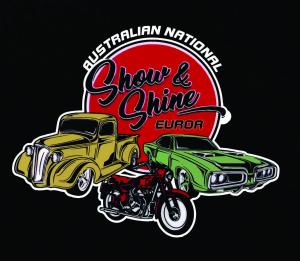 The Australian National Show and Shine Euroa
Now acknowledged as one of the top Show and Shine events in Australia – is now also the best value-for-money family entertainment for motoring enthusiasts. It is indeed
MUCH MORE THAN A MOTOR SHOW!
Australian National Show & Shine president, Ian Langlands said, "With a renewed committee and new members it looks like the 2023 Show will be better than ever.
The committee has concentrated on obtaining new major attractions for the show this year, whilst keeping the admission price as low as possible.
Mr. Langlands said, "Our event has now happily reached the stage where the majority of our exhibitors return every year, many of them with different vehicles that they have lovingly prepared. This means that the 'grass roots' of our show is now self-sufficient."
MOVE – the Shepparton-based "Museum of Vehicle Evolution" will have the "Menulog" 1964 Cadillac on display from the famous "Menulog" advertisements on TV, our apologies Snoop Dog is busy and cannot attend. The Caddy will be on display in "ELITE STREET" with other top class vehicles and previous winners of the ANSS-Euroa.
The focus for Euroa Show and Shine participants has been to ensure that the event is established as a family-friendly environment by way of including new and innovative attractions for everybody, including the kids.
Such features as free rides on the Euroa mini railway, jumping castle and a petting zoo ensure that no-body of any age gets bored with looking at a magnificent array of cars.
Food and drink stalls, trade stalls, a period costume Fashions on the Field competition, and entertainment from our Master of Ceremonies "Andrew Embling" and "The Neale Williams Band " will ensure than things roll (and rock) right along.
This year we will be screening the film "Wide Open Road" The story of cars in Australia, this will be screened on Sunday 1st at the Euroa Community Cinema, entry will be gold coin donation at the Euroa Cinema 2 Sessions 9.30 am - 10.30 & 11.30 to 12.30.
The director Paul Clarke is a certified car nut and offered the film to use at our event.  Paul Clark is the co-writer of the new John Farnham film "Finding The Voice".
Major attractions will again include some of the most popular from last year, with the Euroa SES display looking to be re-located to a more visible location.
The enormously popular Australian Defence Forces display which included the Hawkei and Bushmaster Armoured Protected Vehicles together with a group of ADF officers and personnel to answer questions and explain the vehicles.
With all of this, entry prices for spectators are still surprisingly low, with adults just $5 per person and kids under 16 free, making this just about the best value for money available for a whole day's entertainment for motoring enthusiasts.
Show cars entry is $10 including driver, and motor cycles $5 including rider.
Gates to the Seven Creeks Park for the Australian National Show and Shine will open at 8.30am on Sunday 1st October, and don't forget that daylight saving starts on the same day.
Judging for trophies of more than 40 categories on offer will take place on the main stage area at 1.30pm.