Capital Fight Show #18
Fri. 8 Nov, 2019 at 7:00pm AEDT
Price: AUD $60.00
All Ages
Event Stats
Price: AUD $60.00
All Ages
Event Description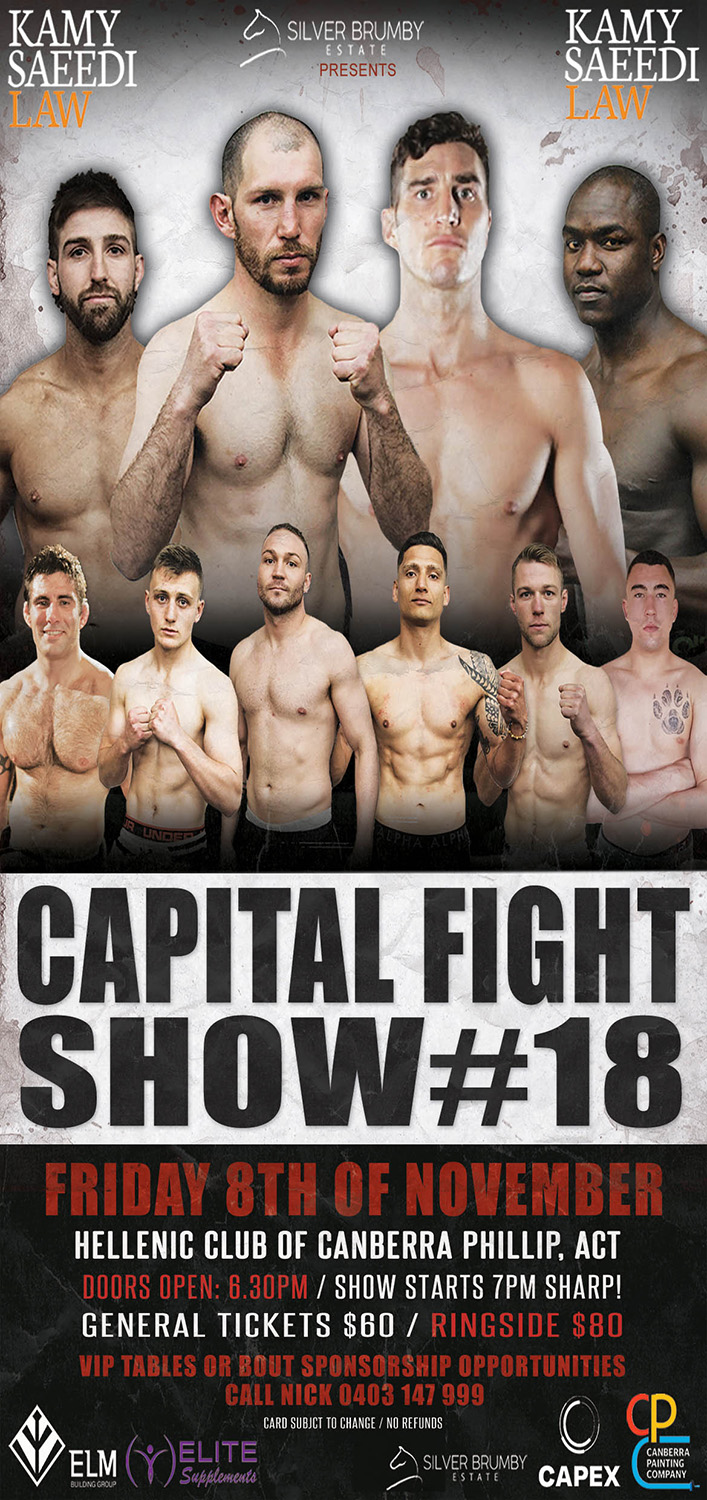 Ladies and Gentlemen,
#CFS18 is finally here!
In the last blockbuster event of 2019, Capital Fight Promotions is proud to bring to you Capital Fight Show 18 – Friday 8 November from the Hellenic Club of Canberra, brought to you by Kamy Saeedi Law.
Following on from a magnificent Capital Fight Show 17, the fighters are ready to go and end the year with a bang.
Ben Dencio returns to the ring following his second epic main event of the year and is ready to win that elusive top level title. In the much anticipated rematch, Dencio takes on Sachin Mudaliar again, in a repeat of the epic ANBF Australasian Super Featherweight contest and Dencio will be seeking revenge for the narrow split decision loss.
In massive news, CFS18 will host the homecoming party of Canberra's Boxing Baker, Steve "Tough Love" Lovett. Back in Aus following his stint in the US, 'Tough Love' will launch the rejuvenation of his career, to have one last run at the big time!
With a UFC contract in sight, The Duke of Canberra, Duke Didier is back after his first round submission of Jeff King in September and is ready to do more damage in another all-action packed MMA bout.
African Heavyweight and crowd favourite, Arsene Fosso plans to make it 3 KOs from 3 fights as he looks to move towards his first title in due course.
Abe Errol Archibald is looking to take the momentum he has garnered with an excellent win at CFS17 and take another step towards the NSW Super Welterweight Title.
The Impressive Jorge "The Koorie Zombie" Kapeen came back from hitting the canvas early in his pro debut in a fight of the night performance, earning a split decision win over tough Queenslander, John McLauchlan. Kapeen backs up again, looking to make it 2W from 2 Fights.
Also back in CFS 18 is Alex "The Axe" Cooper, after his first round destruction on his professional debut. Cooper proved that the hype was real and he will be back in force again.
19 year old Dylan Hadley is back following a very tough test on professional debut that he passed in flying colours.
Reza Almasi fights in another Professional Mixed Martial Arts bout as he looks to pick up a win and Blake Donnelly makes his CFS debut.