eaters - Joondalup Festival 2023
Multiple Dates & Times
Event Description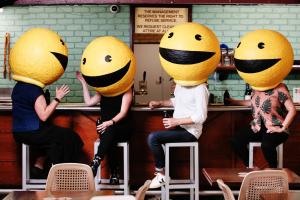 Do you know where your food comes from?
Feeding a global population of 9.5 billion by 2050 may require some radical rethinking and personal sacrifice. From lab grown meat to farmers who need wives, pesticides to politics, old knowledge to new tech, eaters invites you to nourish your appetite for change.
Under the cunning guise of a pub quiz, join pvi collective for a rowdy hour of 'eatertainment' that seeks some common ground for the future of food. From the people who grow it, to the ones that consume it, along with the powers that control its production and future survival - we all have skin in the game.
eaters draws on input from farmers working on the front lines, first nations experts, climatologists, geneticists, conservationists, technologists, and the world of agri-business to question if a change of diet can ensure the future of the planet.
We're ready to cook up a storm... Are you?
Doors open from 6.30pm. Grab a drink or something to eat from the delicious offering at Whitfords Brewing Co.
For more information please call 9400 4000.