Brazilian Day with FELGUK
Sat. 7 Sep, 2019 at 10:00pm - Sun. 8 Sep, 2019 at 3:30am AEST
AUD $15.00 - AUD $99.00
18 and Over
Get Tickets
Details
Comments
Event Stats
AUD $15.00 - AUD $99.00
18 and Over
Event Description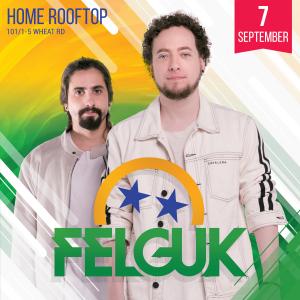 Brazil Independence Day will be very special this year.
FELGUK is coming to Australia for you on this important occasion.
Save the date and celebrate like never before!

Headliner: FELGUK (BR) - DJ set.

MAIN room DJs:
* SAAD
* XSAVIER
* GALIB b2b BREEZE
* MARC FARY
* KU3LHO
* SANGALLI

FUNK room DJs:
* CIRINO
* BRUNA GIRARDI
* SAAD

Special day, special people! This will be a party to remember for sure!

TICKETS:
For now it's only $15 for a ticket to this great show. If the price is important for you, get the ticket now.
(you know, they will be more expensive on the doors)

===

INFO:

FELGUK DJ Set: Since Felipe moved to Portugal more than a year ago, he tours around the world, and Gustavo usually plays in Brazil. FELGUK perform like this for a long time and this will be the case with our show too - Felipe is coming to represent FELGUK and play your favourite music in the DJ set. He is super excited to perform for you!!

DRESS CODE: Relaxed. Abada and shorts are fine, for example. Please note that you still need to wear enclosed shoes.
Costumes are very welcome!

All standard rules and regulations apply. This is an 18+ event, RSA, etc.
Join the Conversation
Follow the event with #felguksydney