Mid Sem Easter Party Sydney
Thu. 18 Apr, 2019 at 9:30pm - Fri. 19 Apr, 2019 at 4:00am AEST
AUD $25.00 - AUD $80.00
18 and Over
Event Stats
AUD $25.00 - AUD $80.00
18 and Over
Event Description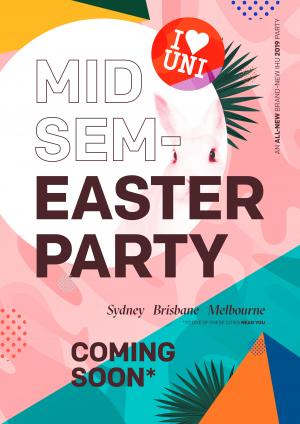 What better way to step into Mid Semester Break with our HUGE Mid Sem EASTER PARTY! Join your friends and hundreds of students across all the major universities for an Easter Break you all deserve!
Event Page | Video Trailer
For the first time in history, I Heart Uni will transform one of Sydney's spectacular venues into Australia's biggest nightclub that will dazzle all the senses. With an audience of, 1000+ people across all the major universities and colleges, get excited for a tidal wave of unity and euphoria!

Start inviting your friends and join us as we take you on a spectacular Easter Break journey.
**********************************
The I Heart Uni Annual Mid Semester Easter Break Party 2019 is back and will be bigger than ever!
10 Universities & Colleges including: UTS, UNSW, USYD, MQ, WSU, ACU + more & Alumni
What are you waiting for? Get Your tickets now
This will be a sell-out event.
Presented by: I Heart Uni
For more info visit: www.iheartuni.com
Facebook: http://www.facebook.com/iheartuni
To register for Official Silver membership you can do so online at http://events.ticketbooth.com.au/event/IHeartUniMembership

---------------------I Heart Uni Events - Conditions of Entry ---------------------

- Ticket check in closes strictly at 11pm. Arrive EARLY. Long queues & wait times expected
- If you leave the venue, you will need to queue and lineup again
- 18+ Event. Over 18's must have valid approved ID (drivers license, proof of age card, passport) + additional ID such as Student Card, bank card or medicare card.
- Valid ticket must be shown at entry. Please print your online ticket
- Tickets will NOT be sold at the door
- No refunds.
- Invalid tickets - We are not liable for refused entry based upon 2nd or 3rd party selling
- No thongs. Strict dress code applies.
- The following prohibited items will be confiscated, disposed of, or submitted to police: knives, guns, sharp objects, laser pointers or any other item that is deemed to be dangerous, or could be used as a weapon, illicit drugs and 'happy' herbs, alcohol and any beverage in a glass bottle, spray cans or flasks, unsealed plastic bottles (eg water & softdrink), chairs of any kind, eskies and umbrellas.
- No video cameras or large lens professional cameras and tripods
- No audio recording equipment
- Any other items that may cause injury or public nuisance
- Entry is at the discretion of onsite security. Any person believed to be intoxicated or drug affected will be denied entry and evicted from the premises
Photos and/ or video will be taken at this event. By purchasing this ticket you agree to have your photo and/ or video used in I Heart Uni Marketing publications and collateral.
Join the Conversation
Follow the event with #iheartuni