Sistahood Rising 2020
Fri. 30 Oct, 2020 at 11:00am - Sun. 1 Nov, 2020 at 4:00pm AWST
AUD $170.00 - AUD $610.00
18 and Over
Event Stats
AUD $170.00 - AUD $610.00
18 and Over
Event Description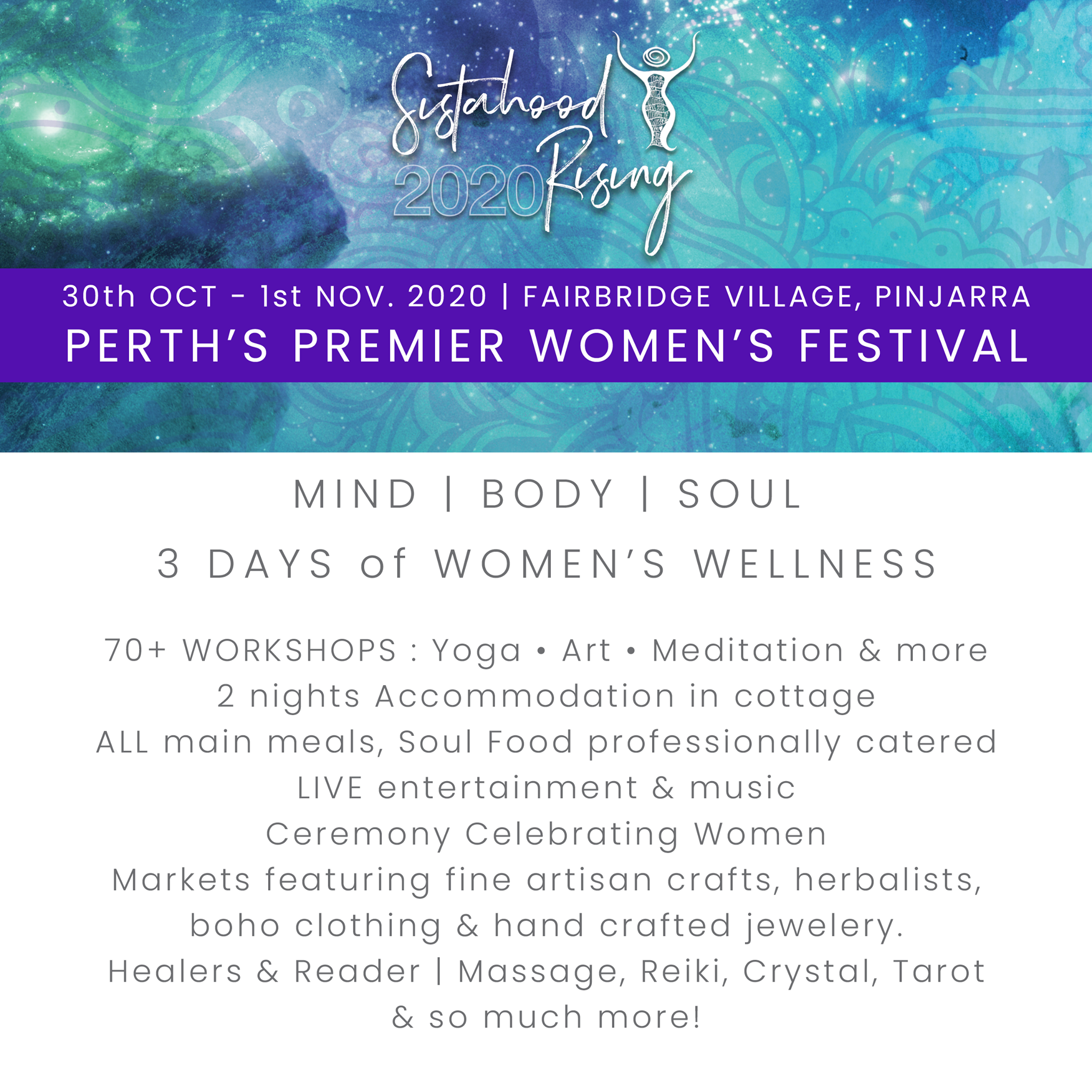 ROUND 1 > SOLD OUT!!
ROUND 2 > SOLD OUT !!
FINAL ROUND LIVE > $610 (+FEES & GST)
MUM & MAIDEN 15+ > LIVE $900 (+FEES & GST)
ALL Inclusive Sistafest Tickets + Payment plans
THATS RIGHT BED FOR 2 NIGHTS, ALL MEALS, ALL WORSHOPS

INCLUDED

Check

PAYMENT PLAN

in the check out of your ticket purchase.
PERTH'S ORIGINAL PREMIER
★ Women's Spiritual Festival.
PRICE INCLUDES
2 Nights ACCOMMODATION
ALL meals - SOUL FOOD Professionally Catered.
ALL WORKSHOPS.
ALL ENTERTAINMENT & CEREMONIES
★ COVID19 AWARENESS & RESTRICTIONS
Sistas as a responsible tribe of caring, awakened women, please KNOW that we have our fingers on the pulse of the current restrictions and are watching as the information unfolds.
At this point we have no reason to believe that WA will not be be fully operational by November. There has been NO OFFICAL STATEMENT TO SAY OTHERWISE only jonjecture.
ALL THE INFO ➙ wyldtribe.com/sistahood-rising-2020
FB EVENT ➙ Sistahood Rising 2020
Marketplace, Entertainment & Healing Haven also on-site!
A Sistafest of Celebration, Soulful Connection, Womanhood & Rewylding of the Divine Feminine.
SISTAHOOD RISING 'REWYLDING THE DIVINE FEMININE'
Are you searching for your kinda women??
You know the ones, crystal loving wild women that see YOU, hear YOU and truly CARE!!
The women that want .. SOULFUL CONNECTION, AUTHENTIC SISTAHOOD, A WHOLE BUNCH OF LAUGHS & A
SLEEPOVER WITH SOUL
!!
Then come on HOME Sista's, this is a Sistafest created just for YOU ..
To get an idea of what will be on offer SEE THE 2019

FULL

PRESENTER LINE UP
PAYMENT PLANS AVAILABLE | REMEMBER EVERYTHING INCLUDED !! *Select Ticket & then opt for PAYMENT PLAN <<
3 Days & 2 Nights
Tribe Community Ceremony
Dance, Trance & Chakradance
Yoga
Experiential Workshops,
Information Classes & Talks
Card Readings
Visualisation & Meditation,
Women's Circles
Drumming Circle
Medicine Wheel,
Live Music
Craft & Art
Women's Mysteries
Sound Healing
Singing Together | Moonsong
Herbalism
Walk the Labyrinth
So much more ...
Laughter, Singing, Discovery, Divination, Dreaming.
We Nourish, Embrace, Celebrate, Embody, Uplift & Dance to all that is to be a woman.
COME ON JOIN US! .. YOUR READY!!
We are Women in Celebration of one another and TOGETHER we Rise!
"I'm a single parent on a fixed income so money is tight but the nurturing self-nourishment and support featured at this event was well worth it and the payment plans are such a fantastic option as without them I probably would not be able to commit" KRISTY.
When selecting PAYMENT PLAN with PLEASE

DOUBLE

CHECK THE SETTINGS BEFORE CHECKING OUT <<

EXAMPLE OF WHAT WILL BE ON OFFER >>
2019 PROGRAM
This is an

15+ Women's ONLY Event

❈
NO babes in arms at this time.
---
** All ticket sales are FINAL ** Refunds CAN NOT be given **

SUPER IMPORTANT
ALL INFORMATION GIVEN VIA OUR FACEBOOK EVENT PAGE
CLICK THE LINK BELOW PRESS 'GOING' TO KEEP UP TO DATE WITH ALL THE LATEST DEETS
>>
FACEBOOK EVENT PAGE
Wyld Blessings of Love & Gratitude
Trace, Larissa & the Wyld Tribe xXx
Join the Conversation
Follow the event with #sistahoodrising
View Everyone
Who's Going?

Vicki B

Michelle C

Samy E

Kylie M

Raine Q