Youth Mural Design Workshop
Tue. 14 Jun, 2022 at 4:00pm AWST
Event Description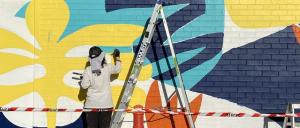 Young people are invited to learn how to translate stories into concepts which will inform the mural created by Sioux Tempestt at Whitford Library.
This is an exciting, free, creative learning opportunity which helps to build cultural identity and character through creative expression in art.
Aspiring artists will gain the knowledge and skills to apply to their own creative projects. It will also provide teens with an opportunity to be involved in a project that contributes to their community's identity and sense of place.
*As the resulting mural artwork will be a contemporary abstracted style, participants shouldn't feel they need to be artists in order to participate. No previous drawing or artistic skills are required.
Young people are encouraged to attend both the Memory Sharing Intergenerational Workshop and the Youth Mural Design Workshop.
For further information call 9400 4751.
This event is part of the Whitford Library Mural Project with Sioux Tempest.